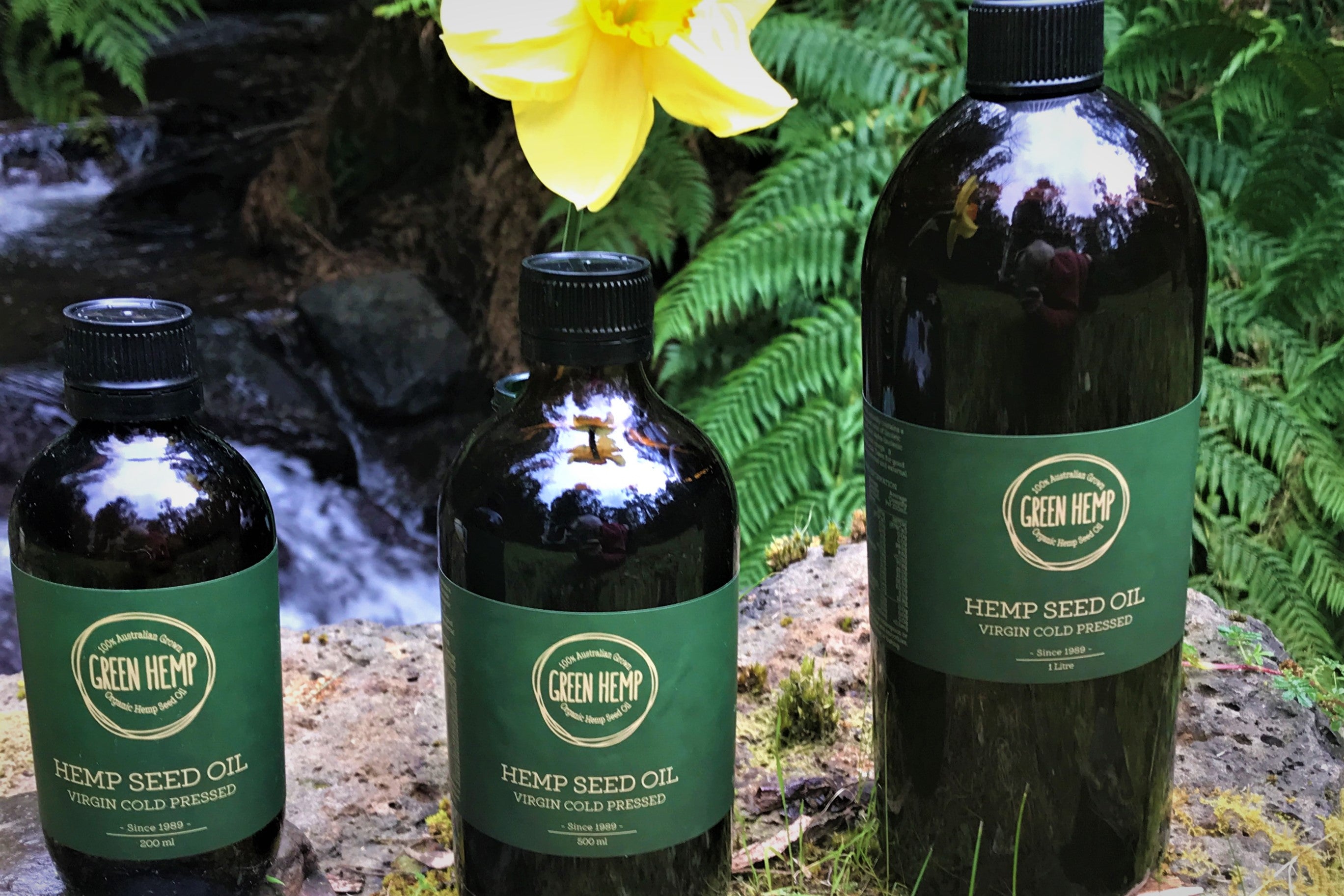 A Hemp Seed Oil x 1 - 250 ml , 500 ml , 1 lt , 5 lt or 20 lt - PICK YOUR SIZE
Pure Hemp Seed Oil
Our Hemp Oil is pure and made of 100% first cold-pressed hemp seed oil. With a versatile range of applications that extend beyond its use in cooking and helping relieve various skin conditions, our organic hemp oil is a staple in many homes around Australia.
For more than 30 years, GREEN HEMP AUSTRALIA has supplied the freshest oil available from Australia's organic hemp farms. The hemp seeds are harvested and cold-pressed every few months into a food-grade oil and then bottled fresh by GREEN HEMP AUSTRALIA.
Our Hemp Seed Oil is available in 250ml, 500ml, 1 litre, 5 litres and 20 litres.
What Can Pure Hemp Oil Be Used For?
Our Hemp Seed Oil offers many benefits, ranging from assisting joint, bone, and skin wellness to improving and maintaining healthy cognitive function. Its versatility makes it an excellent choice as brain food for the entire family while substantially boosting the immune system.
Hemp Seed Oil also helps comfort and soothe dry skin conditions. It is a perfectly balanced oil containing omegas 3, 6, and 9. These Essential Fatty Acids (EFA) are absorbed into our skin cells, replenish damaged lipids, and repair skin. Hemp Seed Oil contains some of the highest known levels of EFA in the plant world. EFAs 3,6, and 9 are essential to the human body for growth and healthy living. The high concentration of EFA makes hemp seed oil an ideal treatment for damaged skin.
Recommended Daily Dose
Hemp Seed Oil is rich in essential fatty acids, including omega-3 and omega-6, which are beneficial for overall cardiovascular health. For this reason, we reccomended taking one dessert spoon daily to help support cardiovascular health and fight cholesterol.
Recomended Direction Acne & Congested Skin
Apply a hot face washer on the skin for a minute, then massage 1-2 spoonfuls of Hemp Oil into the area for 10-15 minutes, then remove with a hot wet face washer. Repeat every evening for two weeks to draw out impurities, unblock pores, and help heal acne. Repeat the process for severe acne 2 – 3 times a day until the condition improves. Hemp seed Oil has a non-cosmogenic value of 0, which means it's a dry oil and will not block pores. Instead, it will remove excess sebum build-up in the clogged pores and heal acne scarring.